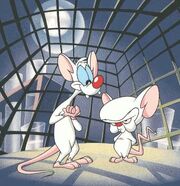 List of Episodes is a page on this wiki which lists all the episodes of Pinky and the Brain that were ever made.
Pinky and the Brain was an animated television series and spinoff of Animaniacs starring Pinky and the Brain. The show ran from 1995 to 1998 on Kids' WB! and contained 65 episodes over a total of 4 seasons.
Season 1: 1995
Edit
Season 2: 1996
Edit
Season 3: 1997
Edit
Season 4: 1998
Edit
Ad blocker interference detected!
Wikia is a free-to-use site that makes money from advertising. We have a modified experience for viewers using ad blockers

Wikia is not accessible if you've made further modifications. Remove the custom ad blocker rule(s) and the page will load as expected.