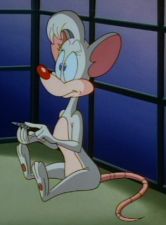 Name= Billie
---
Billie is a female mouse, another result of gene splicing. She is smarter than Brain, and makes him afraid she will beat him to his goal of world domination. He loves her: she fancies Pinky. Despite Billie having great intelligence, she can act a bit ditzy at times. Billie first appeared on Animaniacs in the short "The World Can Wait"
Personality
Edit
Appearances
Edit
Season 03, Episode 03 "Brain Noir"
Season 03, Episode 30 "You'll Never Eat Food Pellets in This Town, Again!"
In You'll Never Eat Food Pellets in This Town, Again! Brain is married to Billie but her real name is Sheila and that she complains not being in more of the show.
Also she said that Billie only appeared in 3 episodes but she only appeared in 2. However She could have been referring to her Debut in Animanics.
Billie's real name is Sheila.
Ad blocker interference detected!
Wikia is a free-to-use site that makes money from advertising. We have a modified experience for viewers using ad blockers

Wikia is not accessible if you've made further modifications. Remove the custom ad blocker rule(s) and the page will load as expected.